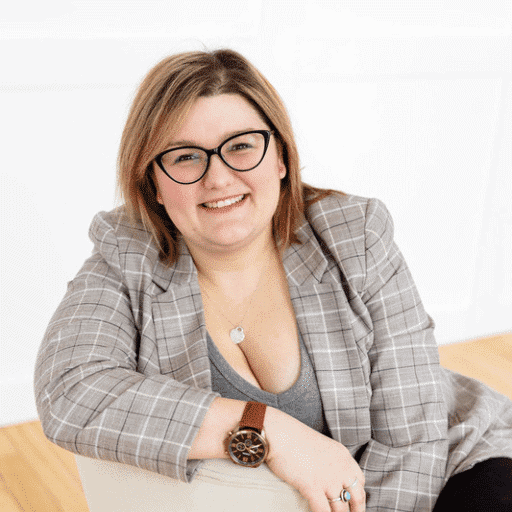 About our guest
By day, Matisse is a vice president of communications at AbleDocs, a global leader in digital accessibility, and teaches part-time in the PR & Strategic Program program at Durham College.
By night, she's an aspiring podcaster and blogger focused on sharing her love of her profession.
And in between, she's a loving wife and a dog mom to two fluffy Old English Sheepdogs, Agnes and Edith. She loves cooking, reading and binge-watching shows, especially Bob's Burgers.
Episode Transcript
00;00;02;11 – 00;00;26;23
Matisse
Hello everyone, and welcome to PR & Lattes. I'm your host, Matisse Hamel-Nelis. And today, I'm going to be talking to you all about why I chose to launch this podcast and its blog counterpart, PR & Lattes. So, let's start off with something simple, like the name. Why PR & lattes? Well, in its basic core, I love PR and I love lattes and all caffeinated beverages, to be honest with you.
00;00;27;14 – 00;00;48;29
Matisse
When I chose to enter the PR profession, it had been a bit of trial and error in finding a career that was a fit. I went from international development and globalization to forensic and pharmaceutical sciences, and then I found public relations, and that's where I found my home and my profession. So really, that's the PR part I do this day in and day out.
00;00;49;09 – 00;01;14;15
Matisse
I am the VP of communications for a company called Able Docs, and I teach PR at Durham College. So really, my life is all about PR. As for the lattes, aside from having a very cute ring to it, think about it. PR & Lattes. How adorable. I am a big fan. Like I said of caffeinated, a delicious warm beverages with lattes definitely being one of them.
00;01;15;04 – 00;01;37;23
Matisse
And while my current go-to beverage is a caramel macchiato, I do have to say there is nothing better on those cold winter days like a warm, delicious chai latte. So that's the name, PR & Lattes, and that's where it came from. Now, how did the whole idea of combining PR & Lattes being the name equate into it turning into a blog and podcasts?
00;01;38;07 – 00;01;59;07
Matisse
Well, funny story. That actually came from an impromptu assignment I had to give to my students. I had the name picked. I've always had the name picked, PR & Lattes. I just never knew what I was going to use it for. That was until this past semester when it all came together. During, like I said, an impromptu assignment.
00;01;59;08 – 00;02;27;05
Matisse
It all started with a guest speaker canceling last minute on my students. They were to talk to them about something newsworthy in which then my students would write a mock press release about it. Well, when they had to cancel, it was on me to come up with something clever and something that is considered, quote unquote, potentially newsworthy. So, as I was sitting in front of my class, I started babbling about a new podcast and blog that was going to launch that I called "PR & Lattes."
00;02;27;09 – 00;02;44;12
Matisse
The thing is, the more I was saying, the more I was making up on the spot, the more I realized why not actually do this. This seems to make sense. This seems to be what I love to do and the passion I had for what I was saying just all came together and it was sort of like an aha moment.
00;02;44;18 – 00;03;02;24
Matisse
This is what I need to do with PR & Lattes. So as they feverishly worked away on creating a mock press release for what they thought was going to be something fake, I was getting to work and turning it into a reality . And thus, the PR & Lattes podcast and blog came to be. So what can you expect from PR & Lattes?
00;03;02;25 – 00;03;37;18
Matisse
Well, from the podcast perspective, I'm hoping listeners will get a bit of everything about professional communications and PR. I'm tirelessly working away on bringing different perspectives to the show about a variety of different topics that are relevant to those of us who are working or just entering the field. But that's just the podcast component. When it comes to the blog, myself and my incredible team of contributors are consistently adding new content from insights into the latest trends to tips and tricks about being a better professional communicator, to book reviews and our takes on case studies and literally everything in between.
00;03;37;25 – 00;03;58;20
Matisse
And no. Like I said, it's not just me pulling it all together. I am honoured to have an incredibly fantastic group of people working on creating content day in and day out from up-and-coming communicators to those who are well into their careers. And I can't thank them enough for all their contributions and support getting this up and running.
00;03;58;27 – 00;04;23;16
Matisse
My aim with all of this is to build a community where anyone can contribute a blog post or join and hop on the podcast to talk about things in relation to public relations and communications. For some, it will mean getting their first published byline or maybe even their first time being on a podcast. While for others, it's all about sharing their expertise to a new audience and building interest in what they are also passionate about.
00;04;23;22 – 00;04;45;27
Matisse
So no matter what, I'm hoping to build PR & Lattes into a place where there is something for everyone. So, how can you stay up to date on all things PR & Lattes? You can follow us on Instagram at @PRAndLattes. So P-R-A-N-D-L-A-T-T-E-S is where you'll see all the new posts about new episodes and blog releases.
00;04;46;07 – 00;05;12;21
Matisse
And the next is bookmarking PRAndLattes.com on your browser. Come back weekly for loads of new content and the latest podcast episode that will launch every Thursday at 10 a.m. And now we wait. This is a teaser episode in just over two weeks will launch our actual PRAndLattes.com website and our first official episode of the podcast, which will feature Avery Smith from Craft Public Relations.
00;05;13;08 – 00;05;23;10
Matisse
So again, thank you for all your support and I can't wait for you to sip on your favourite hot beverage and enjoy all things PR & Lattes. Until June 15th. Bye bye for now.
Fill up your cup...
Get all the latest episodes, blog posts, and insights by signing up to the PR & Lattes newsletter
Listen to PR & Lattes episodes right here, or on your favourite streaming services: