A latte with Avery Smith
Episode first aired on June 15, 2023
Season 01 Episode 01
In this episode, Matisse sits down with Craft PR's Avery Smith to chat about her journey in public relations as well as the agency's unique initiative, Creative for a Cause, a 24-hour hackathon-style competition that challenges teams of students to put their creative thinking skills to use in support of First Book Canada – and compete to win a grand prize of $5,000.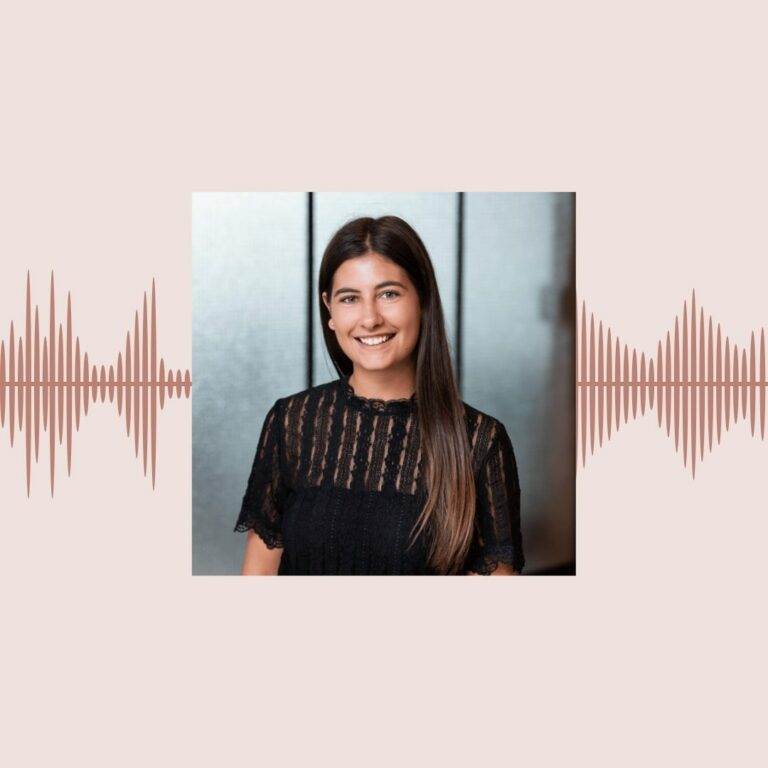 About our guest
Avery Smith started her career in experiential marketing, which provided her with a solid foundational understanding of consumer behaviour and insight into the unique challenges of capturing attention in a busy and cluttered world. As a Senior Account Manager at Craft Public Relations (Craft PR), she puts those insights to work every day, creating 'share-worthy stories for her clients and bringing those stories to life with unparalleled attention to detail and a commitment to excellence in execution.
Episode Transcript
00;00;01;14 – 00;00;23;04
Matisse Hamel-Nelis
Hello and welcome to the first official episode of PR & Lattes. I'm your host, Matisse Hamel-Nelis, and I am so excited to have you join me today. Make sure that you subscribe wherever you're listening to this to get notified each week when a new episode drops. You can also subscribe to our weekly newsletter by visiting our website, PRAndLattes.com.
00;00;23;06 – 00;00;48;21
Matisse Hamel-Nelis
On the website, you'll find our podcast episodes, plus our amazing blogs, with new ones being uploaded every Monday morning. And of course, make sure you're following us on Instagram at @PRAndLattes and on LinkedIn. Okay. So now that we've gotten all of that out of the way, I am so excited about our first ever podcast guest, Avery Smith, a senior account manager at Craft Public Relations.
00;00;48;23 – 00;01;11;20
Matisse Hamel-Nelis
Having started her career in experiential marketing, it provided her with a solid foundational understanding of consumer behaviour and insight into the unique challenges of capturing attention in a busy and cluttered world. When I chatted with Avery, we got to talking about her career path, all things Craft public relations, and of course the agency's incredible initiative, Creative for a Cause.
00;01;11;22 – 00;01;19;27
Matisse Hamel-Nelis
So grab your latte, sit back and enjoy.
00;01;19;29 – 00;01;27;12
Matisse Hamel-Nelis
So, Avery, you are the senior account manager for Craft PR. Could you tell me a little bit about your journey within the public relations field?
00;01;27;14 – 00;01;53;03
Avery Smith
Yeah, for sure. I mean, I will start off by saying I think I've had a pretty straightforward journey when it comes to my career. But if we kind of want to start from the beginning, I mean, I went to Wilfrid Laurier for university and I studied communication studies. So I think like most people in university, I didn't really know what I wanted to do yet, but I knew that it would be in the communications field.
00;01;53;06 – 00;02;20;12
Avery Smith
But to be honest, I didn't really know much about PR in general, but I did. In between my third and fourth year, interned at an experiential agency. So that was kind of my first taste of agency life, and I loved it. So that was kind of a first foot in the door. I love the fast paced environment of working at an agency, working with lots of different people and working with consumer brands.
00;02;20;13 – 00;02;46;02
Avery Smith
I primarily supported the Moosehead Breweries account, so I got to go to some really fun festivals to do sampling. So yeah, that was just kind of a good start into my working life. And then in 2018 I was doing some job searching like everyone. And then I applied to Craft's internship position and to my luck, I got the job.
00;02;46;05 – 00;03;09;28
Avery Smith
So while I had kind of a background in communication studies and had some internship experience, I really was like new to PR didn't have a whole lot of knowledge. I don't have the same kind of background that a lot of people today, you know, go to maybe Humber College and do that post-graduate PR certificate. You know, I didn't really have it under my belt.
00;03;09;28 – 00;03;38;18
Avery Smith
So it certainly was a learning curve in the beginning, like literally figuring out what a media list was or the difference between long and short lead media, things like that. But when I was hired at Craft, it was a much smaller team than it is today. So I was actually employee number eight, I believe it was, Yeah. And so, you know, now we're over 30 people, so you can kind of see the growth that our agency has had there.
00;03;38;18 – 00;03;59;09
Avery Smith
But really, because it was such a small team, I had the opportunity to work really closely and hands on with some of the senior members of the team. And I'd say that's really what led me to my growth and everything that I've kind of learned to date has been from them. So yeah, obviously had some promotions along the way.
00;03;59;10 – 00;04;33;10
Avery Smith
I'm now a senior account manager, as you mentioned, and really for the most of my time here at Craft, I've had the pleasure of working on the Nintendo business, which I absolutely love, because who doesn't remember kind of growing up playing Mario Kart as a kid, right? So yeah, I've had lots of great opportunities just working with that client, doing some really cool campaigns, and I'd say kind of today my kind of expertise and focus is really in the influencer kind of relation space.
00;04;33;12 – 00;05;02;06
Avery Smith
So paid partnerships, whether it's like organic gifting opportunities, and then also coming from experiential background. Really love when we can put on kind of influencer events or working closely with Nintendo's experiential team to do a bit more consumer events. So kind of all over. But yeah, I mean I've had five years or so in the industry now and they've all been at Craft, so I've loved my time that Craft.
00;05;02;08 – 00;05;17;01
Avery Smith
Yeah. And now I get to do some internship hiring, kind of leading the charge of that. So it's always kind of a full circle moment for me when I get to do those interviews and just kind of knowing that that's where I all started.
00;05;17;03 – 00;05;36;11
Matisse Hamel-Nelis
That's fantastic and I love that your journey is a bit different from the typical PR journey, if you will, in that they've either done a postgraduate certificate, a postgraduate certificate, or an advanced diploma out of college where but you're coming straight from university and a communications background, and we're really thrown in as an intern. All right. Let's learn, let's do this.
00;05;36;14 – 00;05;51;27
Matisse Hamel-Nelis
And having number eight on the team and now seeing it over 30 people, that that's got to feel really good knowing that I'm in a good spot. Yeah. Fantastic. What was it that attracted you to Craft PR in the first place when you were looking for a job or that initial internship?
00;05;52;00 – 00;06;14;04
Avery Smith
Yeah, I mean, honestly, my cousin actually was a client of Craft's at a time, so she introduced me to Craft. She kind of slipped me the job posting and she just spoke so highly of Lisa, who is our president at Craft, and really just the work that the team had done for the brand that she was working at.
00;06;14;04 – 00;06;50;06
Avery Smith
And I was honestly like, what the heck? Yeah, let's try out this PR thing. And obviously, I loved it ever since. Really just love kind of getting your hands dirty and doing something different every day, working with media and influencers and just seeing how the landscape has changed. It's definitely been a great experience and I haven't really looked back, but so I think more importantly when I think of like what has kept me here at Craft, because I didn't know a whole lot about it when I first applied to be completely honest.
00;06;50;09 – 00;07;10;12
Avery Smith
But I think really it's the people and the culture here at Craft. I think I could go on and on but one of Craft's kind of core values is collaboration, and that's just really reflected in the culture here, not only to the people that I work with, are like close friends of mine now and we just all get along.
00;07;10;12 – 00;07;39;29
Avery Smith
But, you know, as a team and as colleagues, we really support each other. You know, we share in each other's wins and work through challenges. And it's really all this kind of common goal of like succeeding as a team and not as individuals. And I think that really stems from Lisa and like her leadership. So, you know, she's so hands on and and she really puts our needs first and is beyond generous and determined to make Craft the best place to work.
00;07;39;29 – 00;08;09;04
Avery Smith
So whether it's our awesome benefits or unlimited vacation policies, flexible work hours or even extravagant things like taking our whole team to Disney World, which we did last December. Yes, I still can't get over that. That's something that I did with my company, all 32 of us. Yeah. So I think, yeah, I could go on and on about what has kept me here at Craft.
00;08;09;04 – 00;08;19;23
Avery Smith
But certainly, you know, all the things that you kind of see on the outside lens of what Craft is really resonates here in Craft as well.
00;08;19;25 – 00;08;29;26
Matisse Hamel-Nelis
And I feel like it's safe to say that it's not just an internal pride if you will, but external recognition. I know at the 2022 IABC/Toronto Ovation Awards.
00;08;29;28 – 00;08;30;21
Matisse Hamel-Nelis
You folks cleaned.
00;08;30;21 – 00;08;45;11
Matisse Hamel-Nelis
Up and I remember sitting there just like, "Yes, that's amazing!" because I followed the…I followed Craft PR for quite some time. And just the amazing work that you and the team do. And so it was really, really cool to see that recognition come forward. And I was like, "That's fantastic!"
00;08;45;11 – 00;08;47;05
Avery Smith
Thank you.
00;08;47;07 – 00;09;05;29
Matisse Hamel-Nelis
Yeah, so pivoting a little bit. So I also teach at Durham College, and as someone who works in the field, I know how difficult it can be for students to get that vital real-world experience, right? Especially when you see a lot of these job applications, say 1 to 3 years experience and the like. I don't know what to do.
00;09;06;01 – 00;09;23;26
Matisse Hamel-Nelis
And students do tend to have internships. But what I thought was really, really cool was the fact that Craft PR hosts the Creative for a Cause event, a hackathon. And you just hosted the second one second for the second year. Can you tell me more about how this initiative first came to be?
00;09;23;28 – 00;10;00;14
Avery Smith
Yeah, totally. So to take it back even a step further at Craft, we have a few different committees that we run internally, so our social channels, things like team activities, and then one of the newer ones actually is called Craft Gives Back. And so, you know, in the past Craft has always given back in different ways, whether that be monetary donations to charities or efforts with our charitable partner first to Canada, which I can get to in a little bit, but we really saw kind of an opportunity to give back in a more formal and structured way.
00;10;00;14 – 00;10;27;23
Avery Smith
So that's kind of how it started to come to life. And then one of Craft's core values is always to be cultivating curiosity. In fact, that's actually another one of our internal committees where they kind of plan activities to really keep the team always being curious. And so we really believe and think that there's no kind of skill more critical in our industry than being creative and curious.
00;10;27;26 – 00;10;54;28
Avery Smith
And so, you know, for example, we know that it kind of helps, you know, your problem solving skills or to be a competent leader, you know, So all those kind of things revolving around creativity. And so what we saw is that there's just so much less of that in schooling these days, whether it's, you know, standardized tests or just like less free play you can starting at a young age.
00;10;54;28 – 00;11;40;22
Avery Smith
Right? So I think in order to make our giving strategy feel like it was Craft, we really wanted to ensure that creativity was at the heart of what we did. And so then kind of after a lot of brainstorming, we sort of landed on our mission being to help today's youth really kind of unlock their creative potential. And so out of that creative for a cause was born, which as you kind of said, is a 24 hour creativity hackathon style event, as we kind of are terming it, where teams of participants are briefed on a communications challenge and really kind of put their creativity skills to the test in a real world setting where they
00;11;40;22 – 00;11;50;11
Avery Smith
kind of present back a full communications plan to a panel of judges, all in support of a really great cause, which is first by Canada.
00;11;50;13 – 00;12;15;06
Matisse Hamel-Nelis
When I was a student. I wish we had something like that because when I read the details of what was expected, I thought that was just fantastic. How often do students get the opportunity to pitch a client Right? That's usually something you have to wait until you're actually at a place. And exactly. That is fantastic. So you mentioned that the order that you partnered with First Book Canada for this, what led you to that organization in particular?
00;12;15;08 – 00;12;46;18
Avery Smith
Yeah. So first book is an organization that has been very near and dear, I'd say to our hearts for a while now. There are charitable partner and we've been working with them for the past five or six years. So we provide PR support for them pro-bono. And if you're unfamiliar with the organization, they're a nonprofit kind of social enterprise that provides new books and educational resources to children in need.
00;12;46;23 – 00;13;14;22
Avery Smith
And really as an organization, they uphold a lot of the same values as Craft. And what we love most is that they also believe that providing books and providing education has the kind of power to change a child's life and really unleash their creativity. So empowering them to kind of do whatever they put their mind to. So that's why they felt like such a perfect partner to us.
00;13;14;22 – 00;13;36;26
Avery Smith
Just given that kind of Unlocking Creativity mission. And so we thought they were, yeah, a great partner to bring the hackathon to life. And then by participating, Craft gives a $5,000 donation to first book to really help implement any of the ideas that are shared from the competition.
00;13;36;29 – 00;13;44;25
Matisse Hamel-Nelis
Amazing. Yeah. As a student or somebody who's taking part to think that my actual idea is now going to come to life.
00;13;44;28 – 00;13;46;00
Avery Smith
Totally, that is.
00;13;46;00 – 00;14;12;28
Matisse Hamel-Nelis
Huge. I'm very excited. I'm sitting here and I didn't participate. So amazing. Yeah. Okay. So I know that it's a 24 hour hackathon and speaking to two of my students who did take part, they advised me the Friday is more of a debrief and then you dive right on in for the 24 hours with the Saturday presentations. Can you sort of walk me through what that looks like from your perspective as the agency saying this is what we're going to do?
00;14;12;28 – 00;14;17;03
Matisse Hamel-Nelis
And then what you noticed with the students and as they engaged with everything?
00;14;17;06 – 00;14;40;11
Avery Smith
Yeah, totally. So teams had to apply to participate. So obviously we started with kind of getting the word out there and we were really blown away just by the number of applications that we had. And so six teams were then selected to participate and they ranged from teams of like two people to five people. There was a limit of five per team.
00;14;40;13 – 00;15;08;26
Avery Smith
And so yeah, we kicked things off on the Friday. It happened to also be St Patrick's Day, so it was actually kind of fun. Some of the participants were wearing fun St Patrick's Day efforts, so it was it was good to see that the spirits there. And yeah, so the Friday was kind of a virtual briefing. So we obviously in the lead up worked very closely with, first of all, Canada to put together the brief.
00;15;08;26 – 00;15;32;05
Avery Smith
And so that looked like a brief that any kind of client could give to an agency which basically kind of outlined and you know, some background of course on first look to ensure that they knew what it was. And then, you know, the goal of basically what the challenge was, what they were trying to achieve, the target audience.
00;15;32;05 – 00;16;02;24
Avery Smith
And then we gave them a hypothetical budget to work within, which was 25,000. And like hard costs, we didn't make them come up with agency fees because I think that would be a little bit challenging to do. But yeah, it was an hour long briefing call and it was really great to meet the students there on Zoom. Yeah, And then it the challenge started at one point and they had 24 hours to put together their plan.
00;16;02;24 – 00;16;25;06
Avery Smith
And we definitely heard that a lot of them stayed up late into the night. We were all asking on Saturday morning, how late did you stay up? Some of them. I think the latest team was like one. AM So yeah. And then I think something that was really valuable to the teams was that they were paired with a mentor from Kraft.
00;16;25;06 – 00;16;54;01
Avery Smith
So three of our lovely other senior account managers were mentors to them. So they got two calls with their mentor, one on Friday kind of evening where that one was focused a little bit more on bouncing ideas off of the mentor, kind of figuring out if they're in the right direction. And then another call on Saturday morning, which was hopefully when they had their kind of presentations somewhat ready.
00;16;54;01 – 00;17;20;17
Avery Smith
And we're just kind of practicing with them. So we know that that was really helpful. And yeah, then on Saturday they all actually came in person to our office at the East Room on the East End, and it was just really special to like meet everybody in person. The energy was so high. We had a bit of a an hour or so before presentations actually started so that we could just kind of mingle with each other.
00;17;20;17 – 00;17;44;09
Avery Smith
And honestly, hopefully it was a really great kind of networking opportunity for students as well, because actually a lot of them came from different programs, different schools. So yeah, it was just from us who had been putting in the hours of outreach and prepping the briefs and doing the calls. That was just a really rewarding moment to see everyone in person.
00;17;44;09 – 00;18;12;08
Avery Smith
And then each team had 20 minutes to do their presentation, which was in front of the panel of judges, which actually was myself, our president, Lisa, and then the executive director of Canada, and then the rest of the participants as well. So there was like a good 30 people that participants were presenting in front of. So we were actually really blown away by the skills that we saw.
00;18;12;11 – 00;18;41;00
Avery Smith
And yeah, it was it was a tough one to deliberate, I will say. So tough that we actually ended up making a runner up this year as well. So the winning team was awarded the grand prize of 5000 and then the runner up 2500 and the other teams were all awarded the $500 honorarium. So yeah, it was just a really great experience to be a part of and can't wait to continue doing it in future years.
00;18;41;00 – 00;18;41;23
Avery Smith
For sure.
00;18;41;25 – 00;19;00;06
Matisse Hamel-Nelis
That sounds fantastic. Again, that experience for particularly students, especially those who are about to head out into the industry to get that experience and not only present to, Oh, it's just my classmates and my teacher, but like know, this is the client, this is the agency, this is what you got to do. Yeah, that is fantastic. Absolutely fantastic.
00;19;00;07 – 00;19;06;24
Matisse Hamel-Nelis
So you talked about it being a really tough year to choose. Can you give me some highlights from this year's hackathon?
00;19;06;26 – 00;19;34;05
Avery Smith
Yeah, for sure. I mean, in terms of highlights, like, of course, as I mentioned, just kind of seeing everyone in person now that we didn't have to do it all virtual like we did last year, really Like, it was just so heartwarming to see everybody kind of the next generation of PR kind of professionals. And yeah, it really we kind of kept saying that we felt like the industry was in good hands.
00;19;34;05 – 00;20;03;22
Avery Smith
We had some good ones coming up, so that was just awesome. But I don't want to scoop too many of the ideas because actually, as I think you kind of said before, we'll hopefully implement, if not one but two of the ideas that were shared. So first book was really blown away by some of them and actually want to like pursue sort of starting to execute.
00;20;03;22 – 00;20;23;18
Avery Smith
And, you know, we spoke to the students after saying, you know, if if you want to sort of be a part of this in a way and kind of help bring it to life, but they could. So that was just really awesome. Yeah, but it was overall just like in the amazing, amazing day.
00;20;23;21 – 00;20;34;17
Matisse Hamel-Nelis
Amazing. I love the fact that now students might potentially have their idea, their creator video I get implemented. That is something not many students get to say.
00;20;34;17 – 00;20;36;11
Avery Smith
So that is a huge. Oh yeah.
00;20;36;15 – 00;20;50;00
Matisse Hamel-Nelis
So amazing. Do you think this is something these types of hackathons should be something that more agencies and organizations do to provide that real world experience for those considering either entering the profession of PR or already studying it?
00;20;50;03 – 00;21;19;23
Avery Smith
Yeah, I mean, for sure. I think like if agencies, you know, have the ability to do so, why not? Like we received so much positive feedback from participants? Obviously. And you know, the PR community in general, obviously it does take a lot of investment on our end to do. But, you know, if if people have the bandwidth and the capacity to do so to everything that we've been saying so far, you know, it's students just don't get these types of opportunities.
00;21;19;23 – 00;21;41;14
Avery Smith
And even it's actually great like sometimes if you even are in an agency, but it's a really big agency, you don't have the opportunity to present to a client like, no intern or is usually sitting in some of those meetings and a lot of these students kind of got that opportunity. So I think it only is for the benefit.
00;21;41;17 – 00;22;08;23
Avery Smith
Yeah, And I think like something that we've now sort of focused on a little bit more Craft is especially important, is sort of providing those opportunities for more diverse students or people of color to really get their foot in the door. I think is is super important to give those opportunities to. You know, we've talked a lot about ways that we can try to make the PR industry a little bit more diverse because it certainly hasn't been.
00;22;08;23 – 00;22;35;07
Avery Smith
And historically, and that's why I think we really tried our best to promote creative for a cause beyond maybe some of those traditional PR schools, actually. And, you know, applicants actually really didn't even need to be enrolled in any sort of schooling. They could also just be interested in PR. And so I think that is another kind of mandate that needs to happen now.
00;22;35;09 – 00;22;44;29
Avery Smith
But to answer your question, I think certainly if there is the opportunities to do so, it only is benefit of the students.
00;22;45;01 – 00;22;55;03
Matisse Hamel-Nelis
Yeah, and I think also for the the company or the organization themselves, if they're looking for an intern or potentially have a job opening, you know, some students who are people who've got it down, Right.
00;22;55;08 – 00;22;56;00
Avery Smith
Yeah.
00;22;56;02 – 00;23;01;15
Matisse Hamel-Nelis
So what advice would you have for anybody who is thinking about taking part in this event next year?
00;23;01;18 – 00;23;44;07
Avery Smith
I think if I were to give one piece of advice from what we saw is being creative doesn't necessarily mean coming up with the biggest and most elaborate ideas. I think often times it's like what huge showstopping stunts could we do? And sometimes that is the best case, but sometimes there are smaller ideas and, well, we actually loved about the winning team's plan was that it was simple, but it was smart and it was insightful, and it had a clear kind of communication strategy that could ultimately generate news coverage.
00;23;44;07 – 00;24;15;12
Avery Smith
The thing that we were really looking for in these plans and they leveraged powerful storytelling, not necessarily, you know, huge crazy ideas, but just a simple, powerful story to bring their idea to life. And I think that would just be something to keep in mind to students as they brainstorm that sometimes simple is the best. But I think mostly just like have fun with it.
00;24;15;12 – 00;24;21;22
Avery Smith
Like it's it's a great day. We were blown away by all six teams. So, yeah, amazing.
00;24;21;22 – 00;24;26;12
Matisse Hamel-Nelis
For anybody who wants to learn more about creative for a cause or Craft PR, where can they go?
00;24;26;14 – 00;24;40;23
Avery Smith
They can go to our Instagram page at Craft PR or on LinkedIn across public relations. And yeah, there's lots of information about creative for a cause. Usually on our Instagram channel or LinkedIn. So it's definitely where they could go.
00;24;40;25 – 00;24;51;04
Matisse Hamel-Nelis
Amazing. And my last question, as a PR professional, we always have some hot beverage going, whether it be a coffee or a latte, hot beverage.
00;24;51;06 – 00;25;15;15
Avery Smith
Oh, gosh, that's a tough one. Well, I don't know if it's a tough one, actually. I. I will say and I'm not just saying this because they are one of our clients, but I am a Tim Hortons girl for sure. So I definitely my go to is just a medium regular milk and sugar in my coffee and I can have two of those to get me through the day.
00;25;15;17 – 00;25;18;18
Avery Smith
So I think that's that's my go to raising.
00;25;18;18 – 00;25;20;12
Matisse Hamel-Nelis
Thank you so much Avery.
00;25;20;15 – 00;25;25;04
Avery Smith
Thank you for having me. It's been great.
00;25;25;07 – 00;25;47;06
Matisse Hamel-Nelis
You've been listening to the PR and Lattes podcast. Make sure to subscribe wherever you listen to podcasts so you can get notified each week when a new episode drops. You can also subscribe to our weekly newsletter by visiting our website, PRAndLattes.com. On the website, you'll find our podcast episodes as well as amazing blogs with new ones being posted every Monday morning.
00;25;47;08 – 00;26;00;08
Matisse Hamel-Nelis
And of course, make sure to follow us on social on Instagram, at @PRAndLattes, and on LinkedIn. I've been your host, Matisse Hamel-Nelis. Thank you so much for listening and we'll see you next week with a new latte and guest. Bye for now.
Fill up your cup...
Get all the latest episodes, blog posts, and insights by signing up to the PR & Lattes newsletter
Listen to PR & Lattes episodes right here, or on your favourite streaming services: